Baker Street Behavioral Health NJ Psychology and Therapy Near Me in Ho-Ho-Kus, NJ
If you are looking for reliable behavioral health therapy services in Ho-Ho-Kus, NJ, Baker Street Behavioral Health can help. With over 15 years of experience, we are a licensed clinical mental health provider that offers a range of mental health and wellness services. Our practice has multiple offices located throughout Northern New Jersey, each specializing in psychology, behavioral services, neuro psych services, psychiatry, corporate behavioral health, medication management, and many other therapies available in person and via telehealth.
Quality Therapy Services for People of All Ages from Baker Street Behavioral Health in Ho-Ho-Kus, NJ and Surrounding Areas
Our experienced therapists work with children, adolescents, adults, and families. We use evidence-based modalities and treat each individual, couple, and family member with proven therapeutic techniques that promote healing. Our main priority is to restore your mind, body, and spirit, so you can move forward with life's challenges with the right therapy treatments.
Baker Street Behavioral Health of NJ provides a safe and welcoming environment where families can learn new skills and heal from the past. Our trained clinicians systematically approach behavioral health issues, employing a multidisciplinary approach that makes collaboration effortless and treatment seamless. Our staff members hail from different parts of the world, making us a multicultural and multilingual behavioral health provider.
Offices Located in Various Parts of New Jersey and Telehealth Services Available
We have physical locations in Cedar Grove, Lebanon, Jersey City, Morristown, Fair Lawn, and Paramus, NJ. If you are in or near Ho-Ho-Kus, NJ, our facilities are just a few minutes away! We also provide telehealth psychology services for all those in NJ or in any of the 32 states we serve. This accessibility means that wherever you are, you can get access to our services.
Services Offered by Baker Street Behavioral Health in Ho-Ho-Kus, NJ
Psychology in Ho-Ho-Kus, NJ
Our practice offers psychology services for people of all ages. We understand that mental health concerns differ from one case to another. Whether you are experiencing anxiety, depression, mood disorders, grief, or any other issue, our qualified team of psychologists in Ho-Ho-Kus, NJ, can help. We have the tools to help you navigate and understand your thoughts, feelings, and behaviors in a safe and non-judgmental environment.
Behavioral Services in Ho-Ho-Kus, NJ
At Baker Street Behavioral Health, we believe that an individual's environment and behavior go hand in hand with their mental health. Our Behavioral services in Ho-Ho-Kus, NJ, helps individuals in need of improvements in their personal, academic, social, and family life. Our highly trained clinicians create a customized therapeutic plan that fits each patient's unique requirements.
Neuro Psych Services in Ho-Ho-Kus, NJ
Our neuro psych services in Ho-Ho-Kus, NJ, are focused on helping people who have been diagnosed with or are at risk for developing neurological or psychological conditions. Our team of psychologists and clinicians use their expertise to help individuals with cognitive decline, Alzheimer's, Huntington's, stroke, and many other neurological issues. All our evaluations are performed by highly qualified and experienced neurobiological psychologists.
Corporate Behavioral Health in Ho-Ho-Kus, NJ
We understand the stresses that come with high-pressure work environments, including stress, anxiety, and depression. That's why we offer a range of corporate behavioral services to ensure you and your employees have access to essential mental health therapy. Our corporate behavioral health services in Ho-Ho-Kus, NJ, focus on building resilience and developing stress management techniques to help employees perform their roles optimally.
Medication Management in Ho-Ho-Kus, NJ
Our experienced psychiatric team provides medication management services for people struggling with mental health issues, such as depression and anxiety. Our medication management services in Ho-Ho-Kus, NJ, involve evaluating patients to determine the correct dosage and type of medication they need. We ensure our clients understand the importance of using medication as part of an overall treatment plan and provide continuous feedback on physical and psychological improvements.
Benefits of Choosing Baker Street Behavioral Health in Ho-Ho-Kus, NJ
We provide quality mental health services from experienced clinicians and qualified therapists
Our staff is multicultural and multilingual, making treatment accessible to people from different cultural backgrounds
We offer telehealth services, making care accessible from anywhere you are
We use evidence-based therapeutic techniques to provide personalized care based on individual needs
We have physical locations in different parts of New Jersey, making it easy for you to access our services
Contact Us and Book an Appointment Today
If you have been struggling with a mental health issue, Baker Street Behavioral Health is here to help. Our wide range of accredited mental health therapies is available in-person and via telehealth. Contact us today to schedule an appointment at any of our Northern New Jersey offices or to get started with telehealth therapy sessions. Our offices are conveniently located near Ho-Ho-Kus, NJ, meaning you can quickly and easily access our services. Don't wait any longer to take care of your mental health. Our licensed clinical mental health providers have the experience and skills to help you overcome any mental health challenge.
We Have The Experience You Can Trust.
Experience
Our Therapists are licensed and have the needed experience to help you with your situation.
Professional
Baker Street Behavioral Health upholds itself on being extremely professional in how we help our clients. We strive to give you the best help we can.
Trustworthy
With an established name and years of good services to our clients. Baker Street is someone you can trust to help you with your situation or mental needs.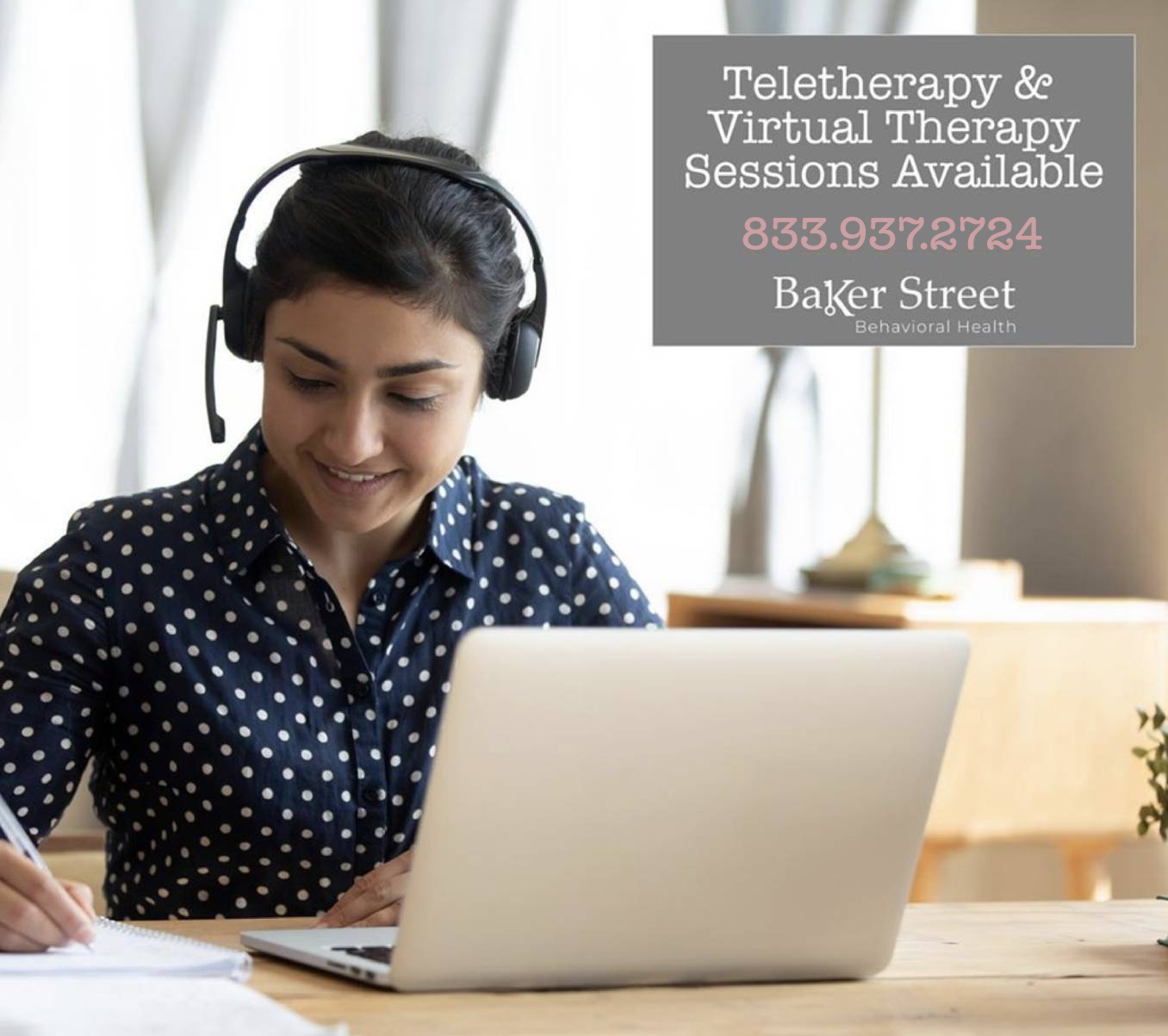 What We Do
At Baker Street Behavioral Health® we believe in integration, collaboration, and quality clinical service. We employ and partner with specialists from across the United States with various disciplines to make collaboration effortless and treatment seamless. Our clinicians offer services in multiple states for all ages and for a large range of presenting issues.
Baker Street Behavioral Health, LLC®
Services are available from our offices throughout New Jersey.
Behavioral Health Services for children, adolescents, adults, and families.
All staff are currently available for Telehealth & Online sessions available for individuals
in CT, CO, DC, DE, FL, GA, MA, NJ, NY, PA, SC, TX
Baker Street provides health services in our locations for many years. We can help you with many various conditions.
Frequently Asked Questions
Is Online Therapy Effective?
We believe online behavioral therapy is an effective and acceptable treatment for major depressions, panic disorder, social anxiety. Connect online helps bring therapy to your home.
Are Therapists Actually Licensed Professionals?
All our therapists and specialists are licensed to provide behavioral treatment to their clients. For more information contact us.
Is Online Therapy Secure and Confidential?
Licensed mental health professionals must follow laws and ethical codes that ensure confidentiality. For more information check out legal page or contact us for more details.
How Long Will I Be in Therapy?
Depending on your situation and sessions needed. Please advise with your therapist, we can work with you to give you what you need.
How Do I Communicate With an Online Therapist?
Baker Street offers telehealth opportunities for all its clients. Just contact us to set up an online appointment and we will reach out to you.
Can I Get Medication Online?
We cooperate with your insurance and therapist to provide what you need for your treatment. For further information about medication contact us today.
What Types of Issues Can Be Treated Online?
Most mental health issues can be treated online. Our therapists are trained to conduct proper evaluations through telehealth therapy.
For Any Further Questions or Additional Details
Use the form down below to contact us for further information.